Posted by
SingleBiDating.com
|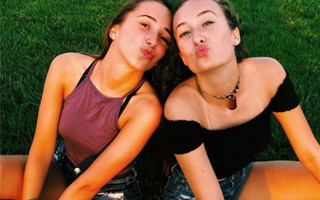 Did you remember the first date? Have you ever regret to say anything about sex or others on the first date? Many people start dating for the first time in high school, looking for love and learning a life lesson. But for bisexual or bi-curious people, what will you do and say on the first date? Think of the first date: We try to express ourselves and learn about the other person, but not express ourselves too much or offend by being intrusive. Nerves and Have no confidence. And if you go to meet bisexual girls, would you tell them you are nervous and confused about bisexual? Love has no gender, there are more and more bisexual and lesbian girls are looking for a dating partner. Have you ever date a bisexual girl? Do you want to meet a bisexual girl?
#1 Don't Say: EX
Don't bring up your ex on the first date, especially to tell us how you are still excellent friends. Nobody needs to know about your ex on the first date. If you do find yourself fighting the urge to bring up your ex, it's worth asking yourself later- what's going on. Is it because you want to talk about what you don't want on a relationship? Or do you want to show your date how much you've moved on? Or is it to reassure your date that she/he is so much better than your ex? Going on a date isn't only about getting to know the other person better, it might also tell you more about yourself.
#2 Don't talking about sexuality
Bisexual Girls join many bisexual dating sites to find dating partners, not a one night stand. If you are talking about sexuality at your first date, I think it's not right. Bisexual Girls are not equal to open to all people and things. Bisexual people is not equal to threesome, but many bisexual couples are looking for women and girls join them for bisexual fun and love. And many bisexual women and girls are willing to try new things and join them. But not all bisexual girls need threesome relationship, they often just 2, not 3.
#3 Don't say "are you bisexual?
If you really want to date a bisexual girl, before your date, you should know that she is bisexual. Never asked her the question use the tone of a suspected. If you met a cute bisexual girl at the party, you don't know how to strike up a conversation with her. At the very least you should summon up courage to her contact information. Maybe she is waiting for you to go to her.
#4 Take your relationship seriously
Please take your relationship seriously, if you are date with a bisexual girl. Even bisexual girls are open-minded and willing to try new things, but don't think that she just for play and fun, they take their relationship seriously. Bisexual girls are human beings, So at the time of appointment, need not special, it is the same date with ordinary people. As long as you don't touch the most basic rules. You will get your beautiful bisexual girl, good luck.
#5 Don't Say: Fuck /Shit
Yes, we all cuss from time to time and that's normal, but keep your language rated G on the first date. Give your date leave a good feeling, you are polite and easy-going.
Have you ever acted polite and formal with a woman on the first date? My dear bisexual and bi-curious friends. What do you want to do when you on the first date? Have you ever date the Bisexual Couples or Bi-curious Couples? Whether did you looking to meeting single bisexual woman or man, here: Single Bi Dating is a special bisexual dating site for single bisexual and bi-curious people looking for single dater, bisexual and bi-curious couples looking for single woman or man.